Motor Mouth: BMW 640d M sport
BMW's 640d is such a cosseting experience, it's more soothing than a hospital bed.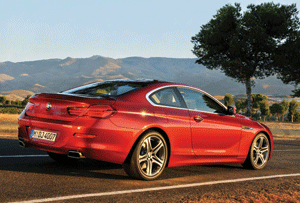 There's no shortage of debate among petrolheads about who makes the fastest car in the world, the most economical, the prettiest. But what is the best car to be ill in? It's probably not something you've considered for long, and nor was it a topic I had dwelt upon until I found myself coming down with the flu and facing a 500-mile round trip to Devon in this, the new BMW 6 Series.
And, you know what, the Beemer came up trumps. It is incredibly economical for its size (the last thing you want to do when you're sick is to get out of the car to refuel), it is powerful when you need it to be (useful in cases of nausea), it has the option of 'soft-close doors' (an absolute necessity when you have a thumping headache) and, most importantly, it is the most comfortable thing this side of a hospital bed.
The leather seats are so versatile and malleable that you could be on your sofa at home. The ride can be adjusted from hard to soft, according to how sporty you feel, but the softest option, labelled 'comfort +' is so smooth and floaty that it may as well be renamed 'flu'.