Motor mouth: Ferrari California
The Ferrari California, for all its potency, is also a fantastic car for just cruising around in.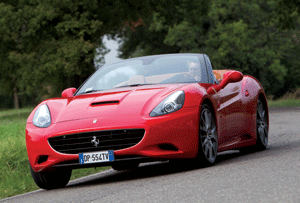 It's a bit awkward, I suppose, that I got so excited about the one-litre, £7,995, 62.8 mpg VW Up in my previous review. And inconvenient that I went on to say that a new generation of cheap, fuel efficient models was making me question what I liked and needed in a car.
For this month's test model, with options, has a price tag of £207,657, which would buy you 26 VW Ups. You could actually purchase an entire Up for less than it costs to fit this car with diamond-polished 20-inch rims. Moreover, the engine is more than four times the size and offers nearly eight times the power.
So how can I justify raving about it? Well, in its defence, the Ferrari California does not have an entirely reckless attitude to the environment. It has a stop-start device, which cuts the engine when it would otherwise be idling in traffic. And, relatively speaking, with Ferrari having, in 2007, set itself the objective of reducing CO2 by 40%, this car is not inefficient for a supercar.