Motor mouth: Mercendes-Benz E250 CDI
Mercedes-Benz's gadget-laden and quietly powerful E250 CDI fits Sathnam Sanghera like an Oswald Boateng suit.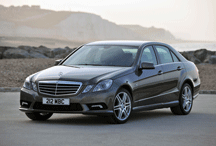 When a friend, colleague or relative of the opposite sex expresses incredulity at my obsession with cars, I often find myself drawing analogies with shoes and handbags. For me, and other male petrolheads, getting into a car is the male equivalent of trying on a new pair of Manolo Blahniks or investing in a new Mulberry: no matter who you are, or how you are feeling, it makes you feel different.
Getting into a Range Rover always brings out the public school boy and repressed country gent in me. Driving a BMW 5 Series Touring always makes me want to buy a Labrador, invest in some property in the South of France and father three children. And, it turns out, getting behind the wheel of the Mercedes E Class makes me feel like ... Arun Sarin, the former CEO of Britain's Vodafone Group.
How? Well, like Vodafone, the E Class is a bit gadgety: coming with blind spot and lane-change warning systems, a drowsiness detector and Distronic Plus cruise control, it's the closest thing to a self-driving car. Like Sarin, who is now senior adviser at PE firm KKR and on the board of Cisco, it's powerful, albeit discreetly; its 369 lb ft of torque puts it up there with the BMW M3.