Motor mouth: Porsche Cayenne S Hybrid
This is one car that ought to be a bit more upfront about its green credentials...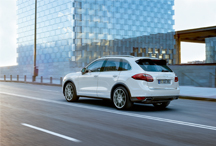 There are some things you have never been able to do in a Porsche Cayenne. Perform a three-point turn in a narrow street, say, or squeeze into a tight parking space. Or offer George Monbiot a lift.
Indeed, the Cayenne has long been the most monstrous SUV this side of a Hummer, with the dimensions, handling, looks and fuel efficiency of a World War II landing craft, which nevertheless has the velocity of a supercar, a grotesque combination of qualities topped off by aggressively ugly looks.
But Porsche has realised that what was acceptable in 2002 isn't any more, and its response has been twofold. First, it has made every car in the Cayenne range lighter and hence less polluting. It has also launched this, the Cayenne S Hybrid. The very concept of a hybrid Porsche will make many people laugh. Porschophiles because the company has always been about speed, not fuel efficiency, and environmentalists because it sounds gimmicky, like putting a solar panel on top of the staff canteen at a coal power station.