Motor mouth: The Range Rover TDV8
It's deja vu again as Sathnam Sanghera rekindles his passion for the TDV8, subtly made over.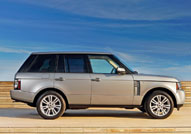 You know the feeling you get when you're out with your spouse, and she's been silent for a while, and you ask if she's OK, and she replies 'fine', but you know from the way she says 'fine' that she's not really 'fine', and then suddenly she's asking if you've noticed something different about her, and you glance, but can't spot anything new, except that she's looking a bit more haggard than usual, but, in a desperate attempt to head off a barney, you find yourself asking 'Oh, have you had your hair done?' anyway?
Well, that's how I felt when I saw this Range Rover. I'd arranged to drive the 2010 503 bhp supercharged V8, with the 'all-new efficient and powerful LR-V8 petrol engine', but seeing it for the first time, I couldn't spot anything 'new' about it. It looked just like the diesel Range Rover I drove last year.
Over six days, two explanations emerged. Design changes on the new model have been subtle. The mesh grille is deeper, the headlights are shallower, and the fog lamps have been relocated slightly. But even Land Rover workers would struggle to spot the difference.