Motor mouth: Renault Clio dCi 90
This diesel hatchback looks sportier than it is, but does it really have to be quite so yellow, asks Sathnam Sanghera.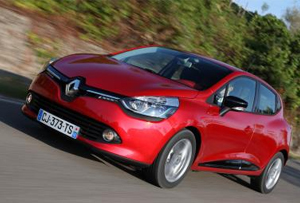 It is a source of occasional frustration and bemusement to me that whatever I drive, my mother will be able to recall only the colour. 'Remember when we went to your aunt's in the black one?' she will ask, referring to a £95,000 BMW limousine. Before adding of a £7,000 Suzuki: 'I much preferred the red one.'
However, in the case of the fourth-generation Clio, the colour is also the main thing I recall. You see, my test model came in inca yellow and I can only presume that 'inca' means 'insane' in French. For it was yellow in the way Malcolm Tucker is sweary. In the way Ryanair is bad at customer service. You could spot it approaching across three London boroughs.
Frankly, I didn't want to get in it. But it came in the week London was experiencing a heatwave, and with the Underground and the buses feeling like mobile Bikram yoga studios, it was the only air-conditioned mode of transport available. And, you know what, for all the social embarrassment of driving around in the vehicular equivalent of a packet of Quavers, it turned out to be rather good.