Motor mouth: Renault Grand Scenic
Sathnam Sanghera is impressed by the Renault Grand Scenic's chilled glovebox and turbocharged engine.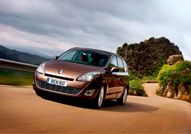 Keen readers of Motor Mouth will be familiar with the tribulations faced by the editor of this magazine when it comes to his wheels. With a growing brood - a 15-year-old plus two rugrats under three - he flogged his crumbling turbocharged Saab 9-3 to a copper last autumn but then lost it completely when he purchased a three-year-old ex-Motability scheme Ford C-Max as a replacement. The shame of it means he drives around town with his face hidden inside a paper bag.
I don't like to see my paymasters suffer so I gave him a couple of proper family wagons to try: the seriously smart Mercedes E 250 Cdi estate, costing just under fifty grand, and the more modest Renault Grand Scenic at just over twenty.
The E-Class is a highly desirable machine but the big drawback with the estate is, despite being the classiest of drives provided by the highest quality engineering and having a boot the size of Britain's public sector borrowing deficit, it's still a squeeze to fit three kids across the back seat. And apparently they don't like it. Especially the one in the middle who doesn't get his own DVD monitor in the back of the headrest in front of him.