Motor mouth: Seat Leon Cupra
It offers turbocharged thrills, but not at the expense of an appealing quirkiness.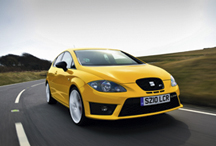 Several months ago, at the height of the economic crisis, I was sitting next to the head of design at BMW during dinner and asked him about the latest trends in car design.
His reply was clear: matt black. Suddenly, everyone wanted cars the shade of the Batmobile, he said, and, sure enough, his prophecy has been fulfilled, with west London being flooded with flash motors resembling mini Stealth Bombers.
It's understandable people would want cars in a shade that didn't draw too much attention then. But, now the economy has improved, it makes sense that the last four cars I've been loaned have been, respectively, fire engine red, glossy white, Lucozade orange and, in the case of the Leon Cupra R, 'crono yellow'. And, if 'Seat' is the acronym for Sociedad Espanola de Automoviles de Turismo, I can only assume that 'crono' is Spanish for 'custard'.