Motor mouth: VW UP
VW's Up is basic yet characterful and, best of all, the fuel gauge needle never seems to move.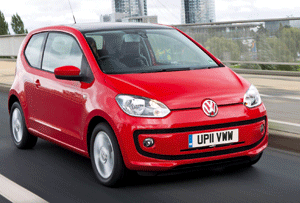 The first car I ever reviewed, more than a decade ago, was a large saloon with a 5.5-litre engine. I took it to Frankfurt to test on the autobahn, where, at 140 mph, I found myself being overtaken by a newer version of the same model with a seven-litre engine.
It's hard to imagine any of this happening in 2012. Driving to Germany is no longer my idea of fun. Hitting 140 mph would terrify me. And I cannot think of the last time a mainstream manufacturer released a car with a seven-litre engine - the horsepower race having been overtaken by the race for efficiency. Ford recently replaced the 1.6-litre engine in the Focus with a three-cylinder, one-litre number which is just as powerful and yet 15% to 20% more economical. Fiat claims you can get 70 mpg out of the two-cylinder engine in its 500 Twinair.
And VW has launched this, the Up, a small three-door car with a three-cylinder, 1.0-litre engine producing 59 or 95 bhp.