On the move: August A Busch
The fifth generation of the brewing family is set to take over a company looking for a new role in the global market.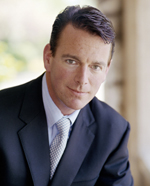 When Anheuser-Busch announced the appointment of August A Busch IV as its next CEO in September, the last thing anybody could accuse the brewing giant of was choosing somebody who doesn't understand its product. As his name suggests, Busch was born into the company: his father, August A Busch III, is a former CEO of the company. His great-great-grandfather, Adolphus Busch, married the daughter of brewer Eberhard Anheuser and joined his father-in-law's firm in 1864. The brewery changed its name to Anheuser-Busch in 1879.
The $15 billion company is the leading US brewer, holding a 48.8% share of US beer sales, and brews the world's biggest selling beers, Budweiser, Bud Light and Michelob. Busch, 42, who will officially become CEO on 1 December, is well qualified for the role in another sense: until he married earlier this year, he had a reputation for hard partying and had even fitted beer taps into the kitchen of his house. But 'The Fourth', as he is known, claims that his fondness for the bachelor life has kept him in touch with his customers' sensibilities.
"I think I have benefited from my lifestyle of being able to be very active in the marketplace," he says. "This has allowed me to understand our customer better and hopefully do a better job of creating products and images that are attractive to the customer." This is not an idle boast: in his previous roles at the company, Busch oversaw numerous award-winning advertising campaigns, including the 'Whassup?!', Budweiser frogs and Bud Light 'I love you, man' campaigns.
Busch takes over from Patrick Stokes, who will become company chairman, but the real comparisons will be drawn with his father, who is set to retire. Busch III was known to run Anheuser-Busch with an iron fist, dealing with anybody who crossed him ruthlessly and efficiently. His son's less abrasive style could be beneficial to the company, which in the past has suffered fractious relations with its partners, including Grupo Modelo, the Mexican owner of Corona beer. "I'm a different person to my father," says Busch IV. "That doesn't mean I'm any less or more effective than him, but I am different."
Anheuser-Busch's problem is that it is stuck in a mature market where domestic volume dropped 1.8% in 2005. Although it reported its first profit increase in five quarters in July and sales grew 5.9% to $4.26 billion, it needs to reduce its reliance on the US market. It has tried to build a worldwide brand by marketing campaigns, such as plastering the Budweiser logo on stadia walls at the World Cup, and through local partnerships. As well as its 50% share in Grupo Modelo, it also has a 27% stake in Tsingtao, China's number one brewer.
CV AT A GLANCE

EDUCATION
BA Finance, MA Business Administration, St Louis University; Brewmaster,
International Brewing Institute, Berlin

CAREER
1985: Joins Anheuser-Busch as apprentice brewer
1994: Vice-president, brand management in the US
1996: Vice-president, marketing in the US
2000: Group vice-president, marketing and wholesale operations
2004: President, US operations
2006: President and CEO
IN COMPARISON: Kazuyasu Kato, president and COO, Kirin
There is no dispute over the main challenge facing Kazuyasu Kato, who took over as president and COO of Kirin earlier this year. In 2001, Kirin's long-standing dominance of the Japanese beer industry ended when its market share was overtaken by rival Asahi. It is something Kato remembers well: "I have never forgotten the anguish of surrendering market leadership and I hope to make Kirin number one again by highlighting the appeal of our products rather than through competitive pricing."
Kato, 61, took over from Koichiro Aramaki, who has stayed on as CEO and company chairman. The period since Kato's appointment has been a busy one. In May, Kirin announced a reorganisation of its domestic alcohol beverage business, drug business and other group support business into three separate holding companies. It also announced that its shares would be delisted from the Nasdaq and the London Stock Exchange, and traded through over-the-counter markets, such as the Pink Sheets. In August, Kirin announced a licensing agreement with Anheuser-Busch to cover the north American market.
CV AT A GLANCE

EDUCATION
Keio University; International Business, Massachusetts Institute of
Technology

CAREER
1968: Joins Kirin
1986: Kirin USA
1993: Deputy general manager, Tokyo
1997: General manager, Hokkaido
2000: Director and general manager, Kyushu
2003: Managing executive officer and general manager, sales and
marketing division
2004: Managing director
2006: President and COO