On the Move: Indra Nooyi
PepsiCo's new chief executive inherits a company in good shape, thanks in large to a healthier food and drinks strategy.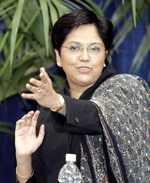 Indra Nooyi's appointment as CEO of PepsiCo sees the Indian-born, Yale-educated executive take control of a company at the top of its game. And she is inheriting a legacy she helped to create. As PepsiCo's chief financial officer, Nooyi worked closely with previous CEO Steve Reinemund on crucial decisions that have paid big dividends - the most obvious last December, when the company's market capitalisation (the total value of its shares) reached $98.4 billion, overtaking arch-rival Coca-Cola (at $97.9 billion) for the first time in 112 years.
PepsiCo has moved ahead of Coca-Cola thanks to less reliance on colas and fizzy drinks than its rival. PepsiCo is very much a diversified snacks and drinks business, as opposed to the beverages-dominated approach of Coca-Cola. Although both companies have been striving to offer healthier products, Coca-Cola remains more dependent on its carbonated drinks heritage, accounting for 80% of sales. According to Beverage Digest magazine, bottled water, sports drinks and iced tea were the three fastest growing drinks categories in the US in 2005, and PepsiCo was ahead of Coca-Cola in all three.
The turning point for PepsiCo was the late 1990s, when it sold off its restaurant business - comprising KFC, Taco Bell and Pizza Hut - and acquired the best-selling juice brand Tropicana and food and drinks company Quaker Oats, which Coca-Cola itself had attempted to buy. The acquisition of Quaker in 2000, for $2 billion less than Coca-Cola's bid, bought PepsiCo the Gatorade sports drink and Quaker's cereal brands, which plugged the company into the fast-growing healthy food sector. PepsiCo's shares are now trading 70% higher than six years ago, in contrast with Coca-Cola's, which are trading 30% lower.