Mr Hu's not a window cleaner now
If you're struggling to keep your company in the corporate governance good books, it's perhaps best to avoid taking tips in transparency from the Chinese Communist Party.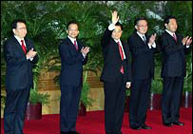 The announcement of its new leadership line-up for the next five years follows an 'election' that could hardly even be described as opaque, let alone transparent. The process is tightly controlled, and involves a 'democratic' selection by the 204 existing members of the Politburo. As reported in the FT today, president and party secretary Hu Jintao kept up the same approach at the unveiling ceremony where, in keeping with the rituals observed at recent party congresses, he 'spoke briefly from the stage and did not take any questions'.

It seems the lines of communication were equally closed in terms of what to wear to the ceremony, as the nine members of the Standing Committee all turned up to the Great Hall of the People wearing the same black suit and red tie combo. Had Hu opened the selection to the floor, someone may well have pointed out the similarity to Gordon Brown's get-up at Saturday's Rugby World Cup final. True democracy would perhaps have led to the line-up sporting something in contrast with chairman Brown's clobber – some nice light blue neckwear, possibly even cravats.