MT celebrates '35 Women Under 35' 2009
MT's '35 Women Under 35' met last night to celebrate the publication of the 2009 list, sponsored by Accenture.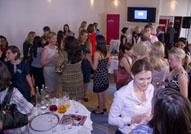 Last night, this year's '35 Women Under 35' met for the first time to celebrate their appearance on the 2009 list. Women from the previous lists, including Alex Mahon from Shine and Liz Savage from Monarch Airways were there to welcome the newest members.
Cover stars Samantha Mangwana, Kate Hampton, Ruth Amos, Laura Stevenson and Jade Tong rubbed shoulders with other 35 under 35s including Katy Taylor of the Metropolitan Police, Kate Smaje of McKinsey & Company, Alexandra Basirov of BNP Paribas, Olly Donnelly of Shivia Microfinance and Emily Shenton of Arrival Education.

MT editor Matthew Gwyther welcomed the women to the Royal Society of Arts in London, while our own Emma De Vita, who oversees the project, spoke of the importance of the 2009 list in celebrating the achievements of these heroines of hard times.

Accenture speaker Suzy Levy, who is human capital and diversity lead at the management consultancy, talked about the qualities of high flying young women. She made particular reference to Malcolm Gladwell's latest book 'Outliers', in which he talks of the necessity of having a supportive community around you to help raise you up above the heads and shoulders of others. She also talked about the importance of giving a helping hand to the younger generation beneath you.

Meanwhile, keynote speaker Baroness Denise Kingsmill, fresh from watching Serena Williams play at Wimbledon, highlighted the qualities needed to succeed during tough times - not least the ability to just keep on going. She also talked about the importance of thinking about your career in the long term, and of finding a way that suits you to accommodate both your work and family life - difficult though this may seem.

The evening went on until late, and MT was forced to eject the last few stragglers – aerospace engineer Bijal Thakore and web search entrepreneur Lisa Myers - from the room. A great time was had by all, and MT looks forward to developing the exciting '35 Women Under 35' brand still further.