The MT Diary: Some of my best builders are Poles
Howard Davies discusses his trip to Warsaw, the problems facing Sarkozy, and Europe in 2012.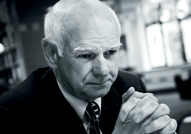 Warsaw is not the most thrilling location one can imagine for a conference in the middle of winter. Am I exaggerating to make a point? I think not. Indeed, one might more accurately say: 'Warsaw is the least thrilling location one can imagine for a conference ...' That would be more honest, but some of my best friends are Poles - they really are.
Some of my best builders are, too. As I left the house for my flight I had to climb over a Polish bricklayer, who is repairing our front steps (The weird thing about Polish builders is that they actually turn up at 8am if they say they will - solid proof that east Europeans do not acclimatise culturally in the UK.) 'I'm off to Warsaw,' I said cheerfully, to make him feel at home. 'Aah,' he said somewhat cautiously, 'was there in 1980s, was - how you say - sniper in Polish army,' levelling a trowel-shaped rifle menacingly at my forehead, 'have nice time.'
I did not have 'nice time' in the Dominique Strauss-Kahn sense and indeed had rather a nasty time getting there. BA cancelled its flight with one of those circular explanations it specialises in - 'inbound plane did not arrive' - and handed out tickets for a convenient quick connection via Prague. But I didn't get one. I wonder quite what the point of a gold card is in these circumstances.