The MT diary: The best way to travel
Howard Davies likes high speed rail, but wouldn't recommend taking the train from Paris to Munich.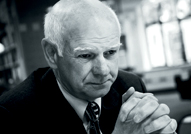 In Manchester, whenever two or three are gathered together, the talk turns to the new High Speed Train to London. From the perspective of Albert Square, it seems to be threatened by a sinister coalition of soft southern nimbies trying to protect their gladioli and their inflated house prices.
I am instinctively pro-train, except when it is owned by Richard Branson, when I fear my fare will disappear into a complex web of offshore companies located in what the French rightly call 'fiscal paradises'. But £17bn (the cost of the first section to Birmingham) does seem quite a high price for shaving 25 minutes off my journey to watch Man City games. Perhaps it would be easier to cut 25 minutes off the playing time, which would help United, as it would then be quite hard for us to beat them by more than four goals.
But my belief in letting the train take the strain was shaken last month. I decided that a neat way of getting from Paris to Munich was by train. I could lighten my carbon footprint in the comfort of a TGV, marking essays word-processed by my French students, while munching on a baguette jambon/fromage. From Paris to Strasbourg all was well, then the train's ordinateur went en panne.