The MT Essays: The Digital Economy and the clicks that count, by Autonomy
As the UK economy moves online, companies are finding they can achieve significant improvements to sales by optimising their marketing strategy for the web, says Autonomy's Mike Lynch.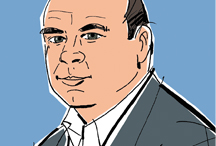 Creating economic growth is the UK's biggest challenge, as the manufacturing and retail sectors struggle, unemployment rises and the spectre of inflation looms. UK businesses are all asking themselves the same question: how can we enhance our value? At Autonomy, we have found that this tense climate is driving companies to embrace innovative online strategies to do just this. The reality is that companies are seeing sales uplifts of up to 20%, improving margins and increasing customer satisfaction by employing technologies that understand the consumer in the digital age.
As the web takes over physical retail spaces as the primary revenue channel in today's market, companies are investing in ways to put their online presence at the forefront of what they do. Advanced technologies, such as website optimisation, can yield results that are simply too good to ignore for all those companies successfully manoeuvring themselves out of the recession.
For example, online clothing retailer Boden increased revenue by 4.5% per visitor by using our multichannel optimisation platform to monitor, test and improve the digital customer experience in real time. FT.com lifted conversion rates by 50% on one webpage, while British Airways saw a 54% increase in flight upgrades during the online booking procedure - all this by using closed-loop website optimisation.