MT Exclusive: Entrepreneurship can solve youth unemployment, says Rod Aldridge
Teaching entrepreneurship may be the answer to the UK's economic woes, reckons the Capita founder.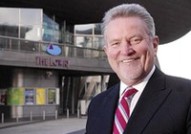 What exactly is the Government's plan to solve youth unemployment? Answers on a postcard – but the general approach seems to be that if we throw enough money at the banks, the economy will gradually return to growth and employment will start rising again. But Rod Aldridge, the founder of giant business process outsourcing company Capita, has a better idea: he reckons we need to be teaching entrepreneurship to kids. 'Entrepreneurship is not recognised by the Government as it should be,' he tells MT. He argues that children who don't necessarily excel in traditional disciplines at school could have enormous potential as entrepreneurs. And he should know…

Aldridge failed his 11-plus exam, which meant he ended up at (in his words) an 'inferior school' with 'inferior teaching'. 'When you failed your 11-plus in those days, you were not thought to be someone who would go on to great things,' he recalls. After achieving five GCSEs, Aldridge enjoyed a career in the public sector before going on to found Capita, which now employs 27,000 people and turned over more than £2.4bn last year. So we think it's fair to say he got the last laugh...

For most people, creating a FTSE 100 company would be achievement enough, but Aldridge says he regrets not starting the business sooner. It wasn't until the ripe old age of 36 that he founded the company, two decades after he had left school. For kids leaving school now, it might be downright impossible, he grumbles. 'If you took my circumstances now, I'd be in a lot of trouble. The routes are no longer open that were open for me when I was starting out.'

The good news is, Aldridge reckons entrepreneurship could be our answer to the current slump. 'When unemployment is talked about, there is not enough talk around developing skills in terms of business as much as there should be,' he explains. 'It could just be the way out for us as a country. It started with just me in my business, but when I left Capita there were 27,000 people. You have to think about the effects of that on families; one person can have an enormous effect by starting a business.'

And rather than just talking about it, this formidable businessman has put his money where his mouth is by setting up the Aldridge Foundation. One of the main projects will be spending £70m on improving the performance of two schools - one near Blackburn and the other near Brighton – as well as the communities around them. Here the children who opt for the entrepreneurship programme will learn the same curriculum as at other schools, but it will be taught in a business context. Rather than learning algebra equations in a maths class, for example, students may look at balance sheets. There are also entrepreneurial 'hubs' and 'pods' where students can go and work together on business ideas.

It may sound like a tough ask for Aldridge and his team. But at least he has one thing going for him: a much wider acceptance of 'entrepreneurship' as a concept (thanks in no small part to the likes of Dragons' Den). 'If I had said at their age I wanted to be an entrepreneur, no one would have known what it meant'. Not any more.