MT Expert: What the Army can teach you about the business world
Former Army officer Sean Farrington, now CEO of QlikTech, on how to apply military training to help your business.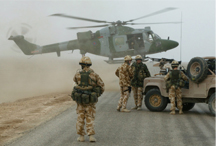 The route I took to the top of a technology company is not a conventional one. Before I even started in software, I spent 14 years in the Army, doing everything from running an ammunition depot and bomb disposal unit in Northern Ireland to air combat in the first Gulf War. It might not seem an obvious path, but I had a sense that the Army would furnish me with skills and ideas that could be translated into other fields.
On first returning to civilian life, I started in e-commerce and the business software and intelligence sectors. Moving into a sales job in a technical field was something that felt comfortable. I wanted to find a self-reliant role that had a bit of the 'risk vs. reward' feel about it.
Everyone in the Armed Forces knows that the execution of a good plan depends on how well it is led. Two leaders could have exactly the same people and the same skills, but the way they run things could have a drastic effect on the end result.