MT Expert: The cloud - what's in it for you?
If you've been left behind by all the chatter about cloud computing, here's a handy explanation of what it actually is, what it does and how you can use it to cut costs and make doing business more simple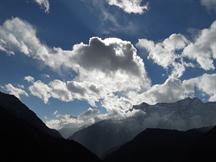 There has been much talk – maybe too much – about 'cloud computing'. But if you've had your head in the clouds (or not as the case may be), in simple terms, as opposed to being in your office, the servers that host your websites, emails, data and software are accessed via the internet.Cloud computing services are a big opportunity for small companies to cut some costs and simplify the 'IT bit' of the business. Facebook, Flickr, iCloud, Google Docs, YouTube: you've probably heard of a few of these. They all use 'the cloud'.
These services bring about a number of exciting advantages for a business:
1) Reduced IT investment