MT Expert: Make the most of co-working
'Co-working' simply means collaborating with unusual partners. But how do entrepreneurs co-work successfully? The Office Group's Olly Olsen has this advice.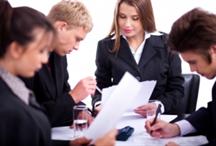 Co-working is the new, fast-growing trend to hit the working world. Defined as 'collaborating with people you wouldn't ordinarily work with', its popularity is probably down, in part, to the economic climate - why pay for services when you can team up and help each other? Entrepreneurs and small business owners have been particularly quick on the uptake, and there are now 40,000 co-workers worldwide. London is one of the co-working capitals of Europe with 17 co-working sites and rising.
Why try co-working? For many, it is a way to meet like-minded people, share ideas and become more productive and motivated. Whether it's getting advice on how to PR a company or forming a joint venture to build an app together, there's a variety of ways co-working can help you. The first step is to look for people to talk to that are outside your profession, but not too far as you still want there to be a mutual interest. Mixing a rich lawyer with a struggling artist is unlikely to be productive, but mixing a web designer and a marketing consultant could prove fruitful.
If you are a member of a collaborative workspace or network, review the list of members and identify who you would like to meet. Approach them one by one, be it over drinks, lunch or a brainstorm. Overall, it's about the quality of the connection and it's the right mix of people that will help you find it. If you want to be particularly proactive, start your own networking groups or speaking sessions with influential experts outside of your field.

Don't try and co-work via email or phone. Meeting other co-workers face-to-face builds bonds and makes yourself known among the community. It's fine to occasionally sit at your desk engrossed in your laptop with headphones on, but co-working is all about working with others. Take a break from your desk, grab a coffee and mingle. Introduce yourself to new members (not forgetting to smile) but also don't be afraid to admit when you need help. This is the great advantage of co-working; there are always people on hand to help solve problems.

That said, don't force it. People are not obliged to help you, so buttonholing them when they are busy or uninterested is not the way to go. Don't go on a self-promotion crusade when you arrive, but take your time to meet people on their terms. If your group prefers socialising out of hours, organise some drinks in the evening or lunch to bond with others in a less obtrusive way.

Olly Olsen is co-CEO of The Office Group