MT EXPERT: Detecting the top mistakes on CVs and job applications
As more and more jobseekers include lies or false information in their employment applications, it's becoming ever more important to check the validity of candidates' claims. HireRight's Steve Girdler reveals where on their CV people are most likely to fib, forget or falsify.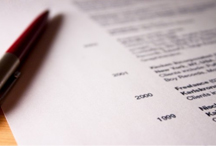 Nearly two-thirds of people provide incorrect information when applying for a job, lying about anything from their degree grade to whether they have a criminal record. Over the last twelve months there has been a steady rise in the level of errors on job applications – up twelve per cent compared to the same period last year¹. So what should companies look out for when considering if a candidate is right for the role?
It's elementary
Jobseekers are most likely to make false claims about their educational background and this is exaggerated or wrong on almost two in five (38 per cent) applications. Often grades and dates of attendance are incorrect but, in some cases, candidates haven't even studied at the university or college where they claim to have been educated.

Almost a third (31 per cent) of job applicants make false claims about their professional qualifications and memberships. Have you checked that your accountant is still chartered? Or that your marketing manager is really CIM qualified and has renewed his or her membership?