MT Expert - Finance: Creating the perfect pitch
Emmett Kilduff of www.cmypitch.com explains how to create the perfect pitch for investors...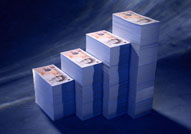 If you're one of the 350,000 start-ups in the UK this year, the chances are you're considering raising finance from a business angel - a wealthy individual who invests in early-stage businesses.
A tiny percentage of companies manage to pull this funding in. It's not because the money isn't there; despite the economic climate, there is still investment to be had. Often, a start-up just doesn't do enough to engage an angel's attention at pitch.
So, how do you create the perfect pitch for funding?