MT Expert - Innovation: Doing more with less
Identifying customers' underlying needs will help your business flourish in a downturn, says IDEO's James Moed.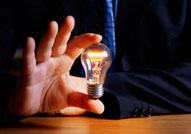 Last week, I faced a room of managers and entrepreneurs, who, after days of riding the rollercoaster of a chaotic market, decided to skip the football on TV and take part in a discussion on innovation. I wasn't exactly looking forward to an optimistic crowd.
Of course, we all know that companies who invest in new products and skills during a downturn are the ones that come out on top when things turn around, but it's the last thing you want to hear when you're facing limited cash, de-motivated staff, and no clear sense of how long it will all last.
Expecting to hear about cost-cutting and 'focusing on the core', I was instead bowled over by stories of new initiatives. These UK managers see recession as an opportunity to uncover new ways to grow – but they're doing it in smart new ways. (Unlike reports of Americans, who seem to be paralysed by a sense of gloom).