MT Expert - Innovation: Sustainable communications
Diana Verde Nieto of Clownfish explains why businesses need to master the art of sustainable communications.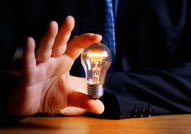 Winners will emerge from the global recession, and I'm placing my money on businesses that master the art of sustainable communications. But what is this exactly? Well, it's about dematerialisation: increasing the emotional value of brands, while reducing the environmental impact of their communications.

In times of crisis, empires are built on the rubble of the old way of doing business. In the western industrialised world, 'the old way' means wasteful resource allocations and inefficient one-way communications with consumers. Now is the time for sustainability to come into its own as a force driving competitiveness and efficiency. The new empires of tomorrow will capitalise on today's recession to tighten their message and delivery, clearly articulating brand value to consumers, so that when the recession comes to a close they will be best-positioned to crush less adaptive competitors.

The concept of sustainable communications goes well beyond marketing green products, services, or credentials. It recognises that a new type of marketing is emerging, which will fully capture the potential of the digital space to create measurable, concrete relationships between consumers and brands.

Digital marketing is particularly well-positioned to benefit from the recession, thanks to its accountability. A well-designed digital marketing program allows you to build a relationship with consumers and get instant access to consumer research data through your own systems. This is where the emotional part of sustainable communications comes into play: according to a recent McKinsey report, 54% of consumers globally are concerned about the environment and want to do something to combat global climate change. Yet despite this, most consumers aren't certain which brands reflect their values, or how their purchases can have a positive environmental impact. Clearly there is an opportunity here for savvy marketers to capitalise on the ability of digital communications to foster a relationship with customers built around their values.

So the marriage of a solid environmental ethic and digital marketing is a match made in heaven:
According to the Natural Marketing Institute, LOHAS (Lifestyles of Health and Sustainability) consumers transcend traditional demographic segments such as age and gender – so it's more useful to target them based on behaviours and values. This goes hand-in-glove with digital marketing, which excels at placing information based on user and influence patterns.
LOHAS consumers are increasingly sceptical of environmental claims made by brands; GfK-Roper reports that 64% of consumers want third-party verification of green claims. This plays to the strengths of digital marketing: effective search engine optimization, outreach to influential bloggers, and tapping into the power of online social media can provide the kind of verification consumers want.
Digital marketing sends a signal to consumers that brands are living up to their environmental values by becoming more efficient and reducing packaging and paper waste.
Brands that master this new world of sustainable communications will be well-rewarded for their efforts: positioned to ride out the recession and poised to capture sizeable market share when it ends.
Diana Verde Nieto is the founder and CEO of Clownfish, an innovative brand and communications consultancy that is committed to socially and environmentally responsible business transformation and implementation.