MT Expert - IT: Why The Cloud has a silver lining
Auridian's Ade McCormack explains why small businesses should consider using web services...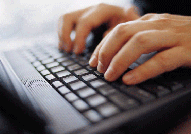 Web services, cloud computing and Software-as-a-Service are IT buzzwords that litter the marketing of technology service companies. They are also used liberally within business school literature and even management journals! So what do you need to know about them?
Firstly they are three different terms for the same concept, which reflects the trend in the IT industry away from buying application software, such as word processing and customer relationship management, towards renting it as a service delivered to the user via the Internet.
The concept is sound. If something appreciates in value, buy it; if it depreciates, rent it. Application software and even hardware are more or less obsolete at the time of purchase – there is always something better coming close behind. So the move towards a service based model has merit. You'll always get the latest version - whether you like it or not! And from a finance perspective, you don't have to front-load your investment by making a large capital purchase: with web services you pay less up front, but you pay a little bit regularly forever.