MT Expert - People: Make the most of your critical friends
It's good for SMEs to have a number of people that they can call upon for advice and support.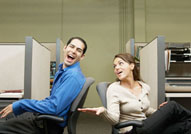 A few years ago when my business was reviewing its proposition and strategy, we realised that we'd reach that age - and growth stage - when we would benefit from a fresh, external perspective: people who were prepared to challenge our thinking and help us reach sound market-based decisions.

We didn't want people who would take on the formal roles of non-executives (though that of course may be the best option for many larger businesses); we needed people with whom we could share our strategic dilemmas, so they could provide us with an objective steer. Our solution was to set up an informal advisory panel of three or four 'critical friends'.

We quickly identified individuals whom we knew well and respected because they held senior leadership roles in adjacent businesses. In other words, they were familiar with our world and the general market trends, and they had a personal interest in debating the emerging issues as well. When we approached them – all very busy people – they accepted the invitation on the basis that they would welcome being part of interesting debates with other senior and like-minded professionals, while each bringing a slightly different market perspective. Finding the diary time was always a challenge, but we held a series of quarterly two-hour meetings with lunch.
The discussions with our panel of advisers were valuable in many different ways: they forced us to articulate our strategic options clearly, they stimulated our ideas, they challenged our assumptions and they helped validate a new direction. At a personal level, I found that they reenergised me, giving me renewed confidence to change course at a critical time. As we all know, having third party credibility also helps to convince the doubtful, and we often quoted their pearls of wisdom in ensuing strategy team meetings.

There are other options in seeking informal external advice from critical friends as a small or medium sized business. Individual mentoring from someone outside the business is, in my view, essential for any MD or owner. I'm sure we all recall the successful TV series with the late Sir John Harvey Jones acting as mentor and trouble shooter as he pointed out where businesses were going wrong - usually through extreme short sightedness and inability to let go of old ways of doing things.

Yet there are limitations to the value you get from just one individual, who parachutes in on a problem. It's good to have a number of people at your side who know you, your business and your markets well; who are commited to your long term success. The diversity of individuals with different perspectives brings a much needed injection of experience, which is invaluable in a smaller business where you are clearly limited in terms of leadership resources.

From my own personal experience, there are a few secrets to success in getting the most from your critical friends:

- Bring them in when you are facing a major transition. They relish a knotty challenge rather than simply 'business as usual'
- Identify people who have some familiarity with your market or customer base, as it shortens the learning curve. But look for a different set of experiences
- Think what's in it for them too; then they're happy to give up time, as reward will not be their only motivation for doing this (many will decline that anyway and will do it on a voluntary basis, if it exposes them to new and interesting business issues)
- Keep them informed of progress; they like to hear about the positive outcomes of their advice
- Use advisers and mentors for real strategic advice; don't involve them in the minutiae of day-to-day operational decisions (they have enough of that in their own businesses!)

Follow this friendly advice and think about widening and involving your circle of critical friends. It will give you the injection of energy and experience that may just be wearing thin right now, as we each tackle our new business challenges.




Virginia Merritt is managing partner at Stanton Marris, a consultancy that specialises in making strategy work through effective leadership, employee engagement and organisation development. By helping organisations make sense of the issues that stop change being sustainable, it enables them to manage the risks associated with strategy development and execution. For more information visit www.stantonmarris.com