MT Expert - People: Leading in tough times
Virginia Merritt explains how leaders must behave to keep their staff onside in turbulent times...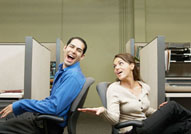 Coping with the impact of the recession on our businesses is tough enough. Yet probably our biggest challenge right now is how we lead our people through it. There is no doubt that in tough times people watch their senior leaders even more closely for cues on what's happening and how to react. Ed Schein, the US leadership guru, cites 'leader reaction to critical incidents' in his top 10 determinants of people's behaviour in organisations. So when I heard recently of a senior director whose brief private outburst about how difficult things were for his business led - within just 24 hours - to an article in the local newspaper about how redundancies at the company were imminent, I was reminded of the heightened sensitivity to leaders' behaviour in uncertain times.
At times like this it's helpful to have a simple checklist of what we have to do to keep people focused on the right things, and to minimise concerns that will otherwise distract energy on to the wrong things:
1. Avoid further uncertainty. When the world around us is in flux, people are grateful for any stability we can give them – even on small matters. For example, reassuring employees about where you stand in the general economic situation, making very clear when it would start to get serious, will at least allay unfounded concerns that everyone is about to be laid off. If you can give a personal assurance that you will do everything to keep the current team intact, make sure you say it loud and clear.