MT Expert - People: Learn not to imitate
Copying management skills from reality TV could be disastrous, says Bev James from the Entrepreneurs' Business Academy.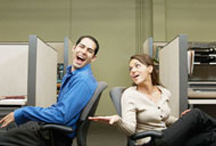 When there are so many different ways to start a business, from Ebay trading to inventing new products, it's increasingly common for entrepreneurs to start up with no or little experience of actually working for a boss. This lack of people management skills means they frequently run into trouble when they find themselves in charge of rising numbers of employees as their business grows.
But it's not just young entrepreneurs. Many young managers and graduate trainees are also increasingly wide of the mark when it comes to good people management skills, and the problem seems to be rooted in the growing popularity of 'reality TV shows' depicting 'bosses' such as Alan Sugar, Donald Trump and Gordon Ramsay, which are developing a new breed of egotistical bully-boss leadership.
For many young people, their main role models for success are the bosses they see on television. While it's only natural if there isn't anyone else to emulate, or they just believe that the fast-track to great riches is to 'copy' these uber-successful entrepreneurs, this new generation of bosses needs to recognise that 'reality shows' are not actually the reality, but heavily edited for entertainment value. These TV programmes are not produced as management training videos, nor are they a true reflection of how these star bosses really run their businesses.
One manager at an event happily told me that he tells all his managers to watch Hell's Kitchen. 'That's your mentor, I tell them. Watch how he does it and do it exactly that way!' Another young entrepreneur informed me that he always fired failures in front of people, 'like Alan Sugar does'.
The problem is that being confidently calm just doesn't make good telly, and Lord Sugar's great strength for television ratings is that he can be caustic and nasty. But as his 'apprentices' and past and present employees testify, he is actually a very good, very fair boss, so people who think they are emulating Alan Sugar are not actually copying the real deal.
Bosses need to get their people skills right, or they'll quickly breed this style of bullying leadership into their organisational culture. What can you do to make your organisation develop managers with good people management skills?
Read quality management and leadership books
Listen to leadership CDs/podcasts
Use self-awareness tools such as DISC or Emotional Intelligence questionnaires.
Leaders and managers at all levels need to think up their people management skills and make it a core element of management strategy to motivate, inspire and truly engage employees the right way, not just breed another generation of wannabee 'reality TV' bosses. By making people management skills central to your business as you enter the next decade, it will not be long before you see real bottom line results.
Being soft and permissive of poor performance is also bad for business and the answer lies in-between: be fair, direct, respectful, consistent and let people know exactly what's expected of them.
Bev James is MD & head of training for the Entrepreneurs' Business Academy, the joint venture formed with James Caan.