MT Expert - People: Most SMEs fail because of people stuff
What to do about the Christmas party? It's just one of the many difficult people issues SMEs face.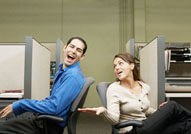 This week it was reported in the FT that the number of new businesses being registered in the UK is actually on the increase. In 2009 so far, an average of 47,500 small businesses have set up new bank accounts each month – compared to an average of 43,800 in 2008. These staggering statistics are no doubt being fuelled by the recession, as more people create the jobs and work they want and need by starting up a business themselves. Yet the other scary statistic is that about 53% of these businesses will fail within five years.

Of course there are many market and commercial reasons for this failure rate. But I also have a hunch that it's people issues that trip many of them up - not necessarily the usual ones of pay and working hours, but the smaller, tricky issues that often become very personal.

Obviously in one-man-bands and very small businesses you can resolve these issues easily through common sense conversations, and taking individual views into account when making key decisions. At the other end of the scale, larger businesses of anything more than 100 people require HR professionals who create policies by which decisions are made. It's more impersonal and people grumble, but they usually accept that the policies were created for the common good of the business, even if they don't always agree with the outcomes. It's the small to medium-sized businesses that feel the crunch: they're torn between accommodating everyone's views, and trying to reach decisions that are right for the business and the individuals - all of whom of course you know personally almost as friends.

The small, everyday issues that quickly become so difficult are things like policies for extended leave, sabbaticals, more flexible working arrangements, status needs (job titles!) and personal behaviour. When we work together cheek by jowl, these issues take on a greater intimacy. Employees also feel they have a greater personal stake in the business, so they demand more involvement in decisions that affect them personally. It's no surprise that tensions and conflicting loyalties make decisions on these issues very difficult.

At this time of year, it's the prickly subject of the annual Christmas lunch or party that often surfaces these tensions. As a very small business you can easily canvas for options and vote on preferences as to how best to celebrate Christmas with colleagues. As you grow, you have to delegate the task and decision to a small committee, who plan and organise it for the rest of the company. This year it's been even trickier. At the end of a challenging year, when most companies have been forced to ask everyone to make cost savings and personal sacrifices to keep the business healthy, it's been hard to reach decisions on what looks and feels right.
A friend running his own business decided that his traditional black-tie dinner (including employees' partners) is part of the reward for a year when the results were much better than expected. He then heard that a few individuals had elected not to come, so he has given them vouchers instead - respecting their views but making sure that they still felt included and rewarded for their contribution to the team's success.

It sounds like a minor issue. But for me it's a perfect illustration of the challenge in managing the people stuff in our medium-sized businesses. We have to walk a tightrope between impersonal policy and personal preferences, between consultation and leadership, and between the business and individual needs. There's no silver bullet; but we have to keep aware of these tensions, learn from the experience and hopefully get better at getting the right balance more of the time. Season's greetings to you all!