MT Expert - People: Do you have the talent?
Business leaders have to start taking an active interest in developing the talent of the future.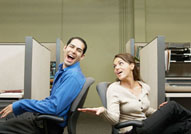 'Do we have the talent we need for the future?' This is the question many business leaders are now asking themselves. The recession woke us up, forced us to evaluate our business propositions (a good thing in my view), and prompted us to redefine our strategies for the changing marketplace - which is now bringing hard questions about our current talent into sharp focus.

I think it's shown that in the good times we were much more focused on managing the talent we needed for today: attracting the best, developing and retaining the people that are critical to delivering results in the short term. And we didn't have to worry too much about the performance of some people who were comfortable in their roles, doing a good job overall, but maybe in danger of plateauing in terms of contribution to the business.

That's changing – and although there are always some notable exceptions of forward-looking organisations who anticipate the skills and attributes they need for the future, the vast majority have not been preoccupied with looking round the corner when it comes to new skills, new jobs and new generations of talent. A scary fact is that the top 10 jobs in most demand now did not exist just five years ago. As someone said to me last week, 'Leadership is about fixing the future state'. So what are we doing as senior leaders today to assess and plan for the workforce we need in, say, 2012 to create and deliver the future?

You may be thinking that this is the job for your HR professionals. And it is, to some extent. But their role going forward will be quite different. It's their job to make sure their senior executives develop and own a talent strategy as the critical driver of the business strategy - it's no longer an optional add-on. And it's HR's job to ensure the leaders of the business have the tools they need to think about talent strategically, and the skills they need to lead and inspire talent at a human and individual level.

We all know that the biggest influence on whether someone chooses to leave or stay with a company is the relationship they have with their line manager. Sadly, I still hear of managers who openly admit that they have never had an honest conversation with their direct reports about personal career aspirations and how these fit with the business aspirations. Yet I also hear - and there are numerous research studies to back this up - that the majority of leaders do not think they have the right people, skills and qualities to deliver the future business results.

So what's emerging is that, as business leaders, we have to take our roles as talent leaders seriously. To do that we have to be both firmly committed to the fact that our people are critical to business success, and highly effective in the way we carry out our responsibilities towards those people. This is no longer the time for paying lip service to talent management. It means:

- Building a talent or workforce plan: identifying the critical roles and skills for the future
- Identifying and managing high potentials: not just those with future leadership potential but those 'vital individuals' who perform essential roles
- Shaping different career paths: giving key people stretch challenges and opportunities to develop new skills; moving people around
- Thinking creatively about recruitment: looking for and attracting people with the new skills you need beyond the traditional roles
- Providing formal and informal feedback: having honest and realistic conversations with people about their future prospects and their performance
- Mentoring key individuals

Simply thinking about and executing these things well in the context of your new business strategy will in fact 'fix the future state' of your company - as you will have the right people alongside to make it happen.

Virginia Merritt is Managing Partner at Stanton Marris, a consultancy that specialises in working with leaders at all levels to bridge the gap between strategy and execution, focusing on leadership development, culture and values and employee engagement.