MT Expert - People: The value of the works outing
Virginia Merritt of Stanton Marris explains why it's always a good time to socialise with your staff.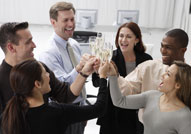 This month our consulting firm celebrated our 10th year in business. Every year we make a point of marking the anniversary with a cake and candles plus our annual 'works outing'. The whole team, including our close supplier partners of IT and Finance support, take off somewhere for the day to have fun together and treat ourselves to a nice dinner and overnight stay in a hotel. The stories of our various trips to places from Brighton to Bilbao have become legends that are passed on, so every year the choice of theme and venue is looked forward to by all.
Given the special significance of this year's event, we went to a luxury hotel in Wiltshire and in the glorious Autumn sunshine we filmed our own spoof 10 minute musical about Stanton Marris, which we showed after dinner at 10 o'clock on the 10th day of the 10th month in our 10th year - a brilliant idea dreamt up by some colleagues. It had briefly crossed my mind whether the whole thing was an over-indulgence in the context of the current climate; however, a glance at my colleagues' faces around the dinner table that evening and the laughter at watching our collective performance in the 'Ten' film was all I needed to remind me of the real value of such social events, especially in small entrepreneurial firms like ours.
I summarise the benefits under the 3 'R's: Reconnection, Relationships and Reward. The primary driver for me is having the opportunity to remind each and every partner/employee that they are making an important contribution in shaping the history of the company. The anniversary outing reconnects us all with our initial creation and makes us aware of just how much we have achieved in our subsequent growth and development. Not least, it also reminds me of the responsibility I carry for ensuring that this group of talented people are always fully inspired by and connected to the work we do.