MT EXPERT: Solving the puzzle of falling productivity
During the downturn productivity fell faster than employment, says Regus' John Spencer. Now we're recovering, how can businesses persuade their employees to put their noses to the grindstone?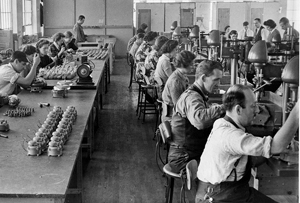 One economic puzzle of the 2010s has been a decline in the rate of productivity growth. In previous recessions, productivity per worker climbed, while employment rates fell. In the latest downturn, productivity actually fell in the UK, and by more than employment. British recessions ain't what they used to be.

In other major economies too, there's concern over productivity rates, even where they're rising. In the US, worker productivity has risen by only 0.7 per cent annually for the past three years, compared with an average since 1945 of 2.25 per cent.

There are numerous theories about what's going on with productivity, such as firms replacing workers with cheaper, less productive staff; or the rise of the 'zombie' company - firms that struggle along merely servicing their debts, rather than repaying them or investing in their business. There are an estimated 160,000 zombie companies in the UK alone, and the money tied up in them (ie. bank lending) is not available to start-ups or higher-growth companies.

Of course, most of the commentaries about productivity focus on the macro level, whereas us at the coal face are more interested in the micro level: what can we do to make our company, division or team operate more productively? In my own experience, productivity comes down to three elements: people, technology, and time.
People
Given that most management gurus take several books to expound their views on boosting productivity, it's hard to deal with this in a couple of paragraphs.

Nevertheless, a few simple management rules can help:
Notice good work.
Never be too busy or bootstrapped to invest time and/or money in coaching, mentoring and training.
Cross-train. If people understand how others in the company work, they make their own processes fit better with those of other teams, boosting efficiency.
Make sure everyone understands the business' goals and their own part in them.
Try to make work enjoyable, and the workplace sociable and supportive.
Give workers the flexibility to work their way. For most people, this means the choice to work at hours and places that fit in with needs like childcare. 63% of business people say flexible working helps to reduce stress, and 77% believe it improves productivity, according to Regus research into over 16,000 workers.
The results can be significant. Businesses with top-quartile employee engagement have 21% higher productivity compared with those with lower-quartile employee engagement, according to an analysis of 1.4 million employees by Gallup. They also have 37% lower absenteeism.