MT Expert's Ten Top Tips: What to ask before you start a business
Before you even put pen to paper on that business plan, here are a few things to think about.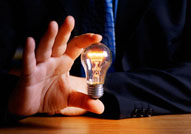 Is your big idea really a good one? How do you know if a business idea could have potential? According to London Business School Professor John Mullins, entrepreneurs and executives should give any big idea a road test before you even think of writing a business plan.

1. Will your idea work?
The best entrepreneurs always test their ideas and question 'why will or won't this new business work?' They know most business plans don't raise any money and most new ventures fail. By thoroughly testing a business idea and finding any fatal flaws before you write a business
plan you can deal with it in many ways - modifying the idea, shaping the opportunity to better fit the market or, if the flaw appears to be fatal, abandon the idea before it's too late.

2. Who are your customers?
Is there a target market segment that allows you to offer customers clear and compelling benefits which are superior in some way to existing benefits? Can the segment provide
a platform or launch pad to support future growth of the business? Without the likelihood of there being customers, there will be no investors – and no business, either!

3. How attractive is your market?
Is the market large enough to allow different competitors to serve different market segments without cutting across each other? Do current and future trends indicate that short and long-term growth in your market is sufficiently encouraging?

4. How attractive is the industry?
Markets and industries are different things, and you may well decide not to enter a brutally unforgiving industry even though the market looks attractive. Check five key forces - the threat of new entry into your industry, the level of supplier power and buyer power, the threat of
substitutes for what your industry offers, and how competitive industry rivalry is.

5. Would you have a sustainable advantage?
Entering a new business without some source of sustainable competitive advantage is a trap! Can you keep ahead of the competition? Why? Look at factors like proprietary elements of your business, superior capabilities that are difficult to emulate, and the viability of your business model.

6. How committed are you?
When it really comes down to it, how committed are you to the cause? What are your goals, your vision? What are your aspirations? What risks are you prepared to take chasing
your dream? Will you get bored of it before long? Any workable idea still needs passion, conviction and tenacity.
7. Can you deliver on the CSFs?
What are the critical success factors in your industry? Every industry has a few - like location, location, and location in retailing - and you need to know what they are. Can you and your team demonstrate - in past deeds, not mere words - that you deliver on them?

8. How good is your network?
Who do you know up, down and across your value chain – key suppliers, customers and others – who can help you realise your ambitions? More crucially, who in your network will help you determine when your 'Plan A' is not working and help you identify a better 'Plan B'?

9. Is now a good time to start a new venture?
Any new business needs resources, whether it's time, people, stock or funding. Some businesses can get started on a shoe string, but if your idea really is a good one you will need additional resources sooner rather than later. Whether it is rent, supplies or hiring people,
resources cost less when times are tough, so now is actually a good time to roll out well validated start-ups, or a business expansion.

10. So, at what point should you write a business plan?
If, after giving your new business idea a thorough road test, all the signs are positive, you will have renewed conviction and evidence – not just intuition – that the idea is really worth pursuing. That's when it's time to write your business plan and to venture out with confidence into the entrepreneurial fast lane!

John Mullins Ph.D. is Associate Professor of Management Practice and holds the David and Elaine Potter Foundation Term Chair at London Business School. The 3rd Edition of The New
Business Road Test – What Entrepreneurs and Executives Should Do Before Writing a Business Plan by John Mullins, FT Prentice Hall, is available from June.