MT Expert's Ten Top Tips: Build trust in your organisation
Trust matters, but it's currently in short supply within UK plc. Here are ten ways to foster it.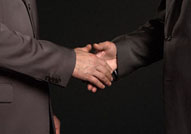 Trust is in short supply in the UK these days. Just as the expenses scandal affected our trust in politicians, the financial crisis has affected the way the wider world sees business (and particularly the City). But we also have problems closer to hand: according to a survey MT ran with the ILM and FreshMinds earlier this year, one in three of us no longer trusts our boss. We think that's bad. So we asked Patrick Esson, MD at conflict resolution specialist Aransa, for his top tips on how to build more trust.
"Trust adds great value to an organisation by strengthening relationships, boosting morale and improving productivity. It demands both character and competence. A competent, dishonest person is obviously not trustworthy. But an incompetent person, however well-intentioned, can't be trusted either. Trust takes time to grow, but can be destroyed in an instant. It arises more from good leadership than effective management. So what are the keys to building and maintaining trust?

1. Establish consistent values
Promote core values that are consistent with each other and with factors critical to the success of the organisation. There's no point stressing quality as a value, if success relies on being cheap, or valuing initiative, if compliance is crucial. Sticking to core values, and knowing that others will do likewise, lays the foundations for trust.

2. Lead by example
Embody the core values. Leaders must establish what is paramount and walk the talk with conviction. Nothing undermines trust as quickly as saying one thing and doing another.

3. Share a credible plan
People need confidence in their leaders' ability to achieve their goals. Let people know what is going on, see that there is a sound plan, and feel that they have an important part to play in it. Don't imply it's not their concern.

4. Delegate wisely
Delegate the task, not the method. Make sure people know what's needed and ensure they have the right skills, tools and resources. Don't blame others if you delegate badly.

5. Empower people by coaching
Encourage people to think for themselves. Coach those who need some guidance. It will help them grow in confidence and reassure you of their ability. Don't micro-manage – that achieves the very opposite of building trust.

6. Develop reliability
Don't promise things you can't deliver. Always follow through on things you say you will do. Insist others do the same. If, for some reason, it becomes impossible to honour a previous commitment, tell those affected as soon as possible. Don't surprise them at the last minute and leave them to pick up the pieces. To ensure others do the same, don't punish their honesty.

7. Have trust as your default
Trust people unless you have good reason not to. But don't be reckless (see 4 and 5). When you trust people, their self-respect grows and they will not want to let you down. If you treat them with suspicion, they will resent it, lose confidence in their own ability and then let you down.

8. Tolerate mistakes
Admit your own mistakes and embolden others to do the same. Don't stigmatise them. Remember the old adage: nothing ventured, nothing gained. Trying to eliminate the possibility of mistakes shows a lack of trust. Learn from mistakes, then forgive them.

9. Improve two-way communication
Tell the truth. People hate being in the dark. Silence breeds uncertainty, doubt and worry. It implies lack of concern, lack of respect and lack of trust. Why should people be denied the truth or the courtesy of regular updates? Be humble and respect the opinion and interests of others. Encourage people to express opinions openly, provide honest feedback and share new ideas.

10.Foster loyalty
Be loyal up, down and sideways – and expect the same from others. Don't pass the buck when things go wrong. Know what matters to those you lead, stand up for them, protect their welfare, and secure the best possible conditions for them. Express your views clearly before a decision is made, but once it's taken, support it fully. Reject criticism and gossip, especially casual sniping on social media networks like Twitter and Facebook. Heed the advice of Steven Covey: One of the most important ways to manifest integrity is to be loyal to those who are not present. In doing so, we build the trust of those who are present.

Finally, remember, this is not a pick and mix. Complete integrity requires all ten.

Patrick Esson is Managing Director of Aransa, a consultancy that intervenes to help resolve conflicts and unblock negotiations, energising business performance for private and public sector clients. http://www.aransa.co.uk