MT Expert's Ten Top Tips: Leading in an age of mass collaboration
How have online social networks changed the way leaders must operate? Here are ten top tips.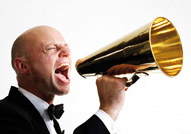 Gordon Brown has come in for a bit of stick this week following his conference speech – and a complaint often levelled against him is that he's not a natural leader. 'Brown is a manager and not a leader, which has always been his problem,' leadership specialist Paul Bridle said afterwards. 'He has no ability to understand what people want to hear'. And despite his wife's efforts on Twitter, the PM's hardly embraced social media (who can forget that eerie YouTube video). So what's he doing wrong? MT asked Leadershift author Emmanuel Gobillot to give us his top tips on how to lead in the brave new world of mass collaboration…

1. Remember - the person you report to is 72.8% water
We live in a world of complex problems, which no one person can ever solve. Sustainable value is generated through co-creation in communities of purpose. In times where we have to do more with less, latent social networks can come to our rescue. You can do more, better and faster through social networks. Take this article – immediate insights were shared by the social communities I belong to (thanks to @stevebridger, @mikerbrt, @DvineExpression and @amysbryant on Twitter)

2. Participate - you don't have a choice
The social web is not an episode of the Muppet Show. Don't be an old man sniggering at the back. Let's be clear. It really doesn't matter if Twitter can't maintain its 1400% growth. It's irrelevant that MySpace is yesterday's news. Social media will not go away (over 70% of your employees and customers are active users). The fact that fashion changes doesn't mean the fashion industry is dead. Conclusion: you will become irrelevant sooner than social media does.

3. Listen
My first boss always told me 'you have two ears and one mouth - use them in that proportion.' Register on Twitter. Enter your company name in the search field. What are people saying? What does this tell you? They may not be a perfect representation of your customer base but, unlike those neat psychosocial demographic segments your marketing department focuses on, these are real people. Listen and understand, don't ignore or justify.

4. Be proactive
When one of its planes landed with a hole in its hull, SouthWest immediately sent out information using social media. United, on the other hand, has still to acknowledge the viral video posted on YouTube by a singer whose guitar was broken by baggage handlers. 'United breaks guitars' has now been viewed over 3 million times. If over 3 million people were laughing at you, wouldn't you do something about it? Use social media proactively; it develops intimacy, which increases trust, which ensures reach.

5. Forget hierarchies
We are relentless in trying to spot our most profitable customers, our highest performing employees or our key influencers. But here is the issue - communities are webs of social relationships where the most important person to you might only participate because of the presence of the least important member. Conclusion: don't waste time and resources on social engineering - it's too complex and doomed to failure. Instead focus on facilitating the creation of communities and supporting these rather than segmenting individual members.

6. Be opinionated
It is a strange paradox that to climb the corporate ladder often requires you to withhold the very opinions we will want you to express as a leader. Communities thrive as collections of individuals, not roles. We only follow people or organizations who stand for something. What you stand for differentiates you. What differentiates you makes you valuable. Try to please everyone and you are GM. Build a tribe of fanatical followers, whilst alienating others, and you are Fiat.

7. Think community not audience
Social media communities are not your audience. They do not congregate to listen to you. You're a guest at the party. Even if it's your party, if you're the only one talking and all you talk about is you people will not come back. Question: why should anyone listen to you? Answer: because you have something interesting and valuable to say. How do you know what's of value? Go back to tip #3!

8. Simplicity always trumps clarity
If your car breaks down, the fact that I can explain why it broke down and how I can fix it is irrelevant. All you want is to get back on the road. In uncertain turbulent times, people value simplicity over clarity. Anyone who can help make the world coherent and simple will be followed. Leaders achieve legitimacy by weaving together events into insights. Question: how does your company help people make sense of the world and simplify?

9. Bring down firewalls
There is still a huge firewall between internal and external networks. Whether through processes or policies, this friction stands in the way of value-creating collaboration. A recent Deloitte report suggests that over 60% of leaders want to have some control over what their employees say on social networks. That they should care is critical, but that they need to control is mistaken. Stage a conversation with employees over social media and develop a collaborative and sensitive policy (rather than a legalistic defensive framework).

10. Start conversations
To remain relevant in what Lawrence Lessig, Professor at Stamford Law School, calls the read/write (as opposed to read only) world requires encouraging conversations not regulating attention. Let people build on what you say and do. We all read novels differently, injecting our sensibilities into the narrative. Even if that view is different from the one intended, we still value the author. Not being in control doesn't mean being ignored.


Emmanuel Gobillot is the author of 'Leadershift - reinventing leadership for the age of mass collaboration' published by Kogan Page (you can read MT's review here - Ed) as well as 2007 leadership best seller 'The Connected Leader'. One of Europe's most sought after leadership speakers, he divides his time between writing, speaking and consulting to some of the world's most senior leaders. He can be contacted at emmanuel@emmanuelgobillot.com or via his website www.emmanuelgobillot.com.