MT Expert's Ten Top Tips: Make your meetings more productive
Meetings may go nowhere if one person dominates the discussion. Here are ten ways to prevent this.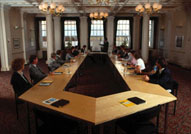 Whenever people gather together, some will want to dominate or lead the group - and if there is a struggle for the top spot, those slugging it out may ignore the rest of the group. Equally, some people are naturally talkative, while others like to contemplate before they offer their opinions - unfortunately the latter sometimes can't get a word in edgeways if too many of their talkative colleagues are in attendance. Then you have people who may be trying to prove something, particularly if they are new to a team or have been brought specifically for their knowledge - in their attempt to demonstrate that they do have value to add, they can sometimes lose sight of the need for others to contribute.

Whatever the root cause of unequal share of voice, the meeting leader needs to take steps to correct it. So MT asked Katharine Woods, the founder of Meeting Magic, for her top tips on how to prevent this happening - and how to handle it if it does.

1. Identify known talkers in advance and plan ways of handling them
This enables you to design a meeting style that will minimise the contributions of the most overbearing.

2. Establish ground rules at the start of the meeting
For example, make sure that everyone has their say, or gets to share one opinion on a topic before anyone else is allowed to speak. Get agreement for the rules and explain that you will be enforcing these during the meeting.

3. State the problem at the start of the meeting
It can be a surprisingly successful tactic to tell people, out loud, what the possible problem might be. The effect is often one of relief from those who don't dominate and one of guilty acknowledgement from those who do.

4. Design processes for equal share of voice
The problem of over-dominance primarily happens when the group is having an open discussion. But there are many alternative ways to get people's contributions. For example:
- Ask everyone to write their idea on a specific topic onto cards and then put the cards onto a board or poster. This way, all the ideas are there together and carry equal weight.
- Pose a question to the group and give everyone 5 minutes thinking time. When the time is up, ask everyone to share their thoughts in turn.
- Split the group into smaller working groups to discuss the topic first.

5. Make space for experts
They tend to push themselves forward if they feel their knowledge or experience is not being heard. Design a process that has specific times, during which their experience or knowledge is shared and can, if necessary, be questioned to support greater understanding.

6. Practise public listening
Often people keep jumping in because they don't feel they're being listened to. As a meeting leader, you can serve the whole group by making sure everyone feels heard. Record their contributions so that they can SEE they've been heard. Large white boards or large sheets of paper taped to the wall are our preferred options. Record the conversation and then if the person is just repeating themselves, point to the words you've written and say 'Thanks, we have that point, is there anything from someone else?'

7. Enforce the ground rules
Having got the group to agree to a rule related to equal share of voice, it is vital that you jump in when you feel the rule is being infringed. You need to act as a mirror to the group to help them see the behaviour for themselves.

8. Acknowledge all contributions
Invite the group to share their points in turn, asking the quieter people to share their input first.

9. Talk to the dominant people in the break
Be polite and unemotional when you do this. Explain that you want to make sure you hear from all of the people in the room and it is hard to hear all the opinions when they have so much to share.

10. Bring the talkers to the front
Invite the over-talkative contributor into the centre of attention. Counter-intuitive though this may seem, it does work.



Katherine Woods, the founder of Meeting Magic, has facilitated thousands of meetings across a broad range of industries. 'People who talk too much' is just one of fifteen frequent meeting groans that she tackles in her first of her two books: 'Meeting Magic: A practical guide for business managers who want to make their meetings productive'. Visit www.meetingmagic.co.uk for more tips and advice.