MT Expert's Ten Top Tips: Reducing employee absence
How can employers monitor, manage and ultimately reduce employee absence? Here are ten top tips.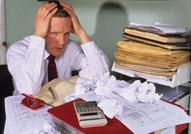 The recession puts a lot of pressure on employees: they may have escaped redundancy, but they're often being asked to work harder for no extra reward. This added stress can drive up the absence rate - and unless it's handled carefully, may even result in dire consequences, as we've seen with France Telecom across La Manche. So MT asked Bruce Robinson, CEO of absence management specialists Active Health Partners, for his top tips on how to address absenteeism - and its causes.


1. Communicate frequently
Make sure you talk regularly with staff, both to keep them informed about what's going on within the company – especially important during the current climate as staff feel vulnerable and fear for their jobs – and to facilitate an informal open door policy to encourage employees to discuss any issues they may have. Ensure they understand your health and wellbeing policy, and are aware of any support services that you may have in place such as an Employee Assistance Services. Staff are often unaware of the service provided to support them.

2. Set clear goals and objectives and review these regularly
Make sure employees are clear about what is expected of them by setting defined tasks and workloads. Make sure that they have the support needed, with realistic deadlines and targets, and give staff as much control as possible over their own development; involve them in setting their goals, decision making and prioritising tasks.

3. Be flexible
Within reason, allow staff to take time away from work to deal with personal and family concerns. Although the working environment can be difficult, it needs to be assumed that home life can be just as difficult, especially during a recession where there may be additional pressures.

4. Treat stress-related absence like any organisational risk
Carry out a risk assessment to identify the hot spots, such as unmanageable workloads, fear of job losses and lack of employee control, to understand and manage any issues. Involve employees and managers to put in place steps to minimise or eliminate these risks. The HSE's Stress Management Standards provide a useful starting point to help employers understand the issues around stress and minimise effects in their business.

5. Always conduct a return to work interview when someone has been off sick
These are an opportunity to brief employees on what has happened in their absence, and provides a chance to discuss any ongoing work-related or personal problems that may have led to their absence. The role of line managers is very important when developing good management practice, ensuring return to work interviews are carried out.

6. Set 'triggers' to identify patterns
For example, if someone has a number of absence spells within a certain period of time, their manager should be aware and have an in-depth interview with them to ascertain whether there is an underlying reason, and then work together to develop an action plan that addresses the root cause of the absences.

7. Keep up-to-date records
This will help identify episodes of particularly high absence and corresponding periods of demanding workloads. Having up to date comprehensive data will also help prevent anyone from falling between the cracks. Being able to recognise when the next high-pressured period will occur allows steps to be taken to support employees and minimise the impact during this time.

8. Encourage and support employee management practices
Put in place mechanisms to help alleviate any work-related sickness. Encourage employees to have a healthy lifestyle and offer training on various topics such as how to take care of themselves and others in matters relating to health and safety at work, time management and assertiveness.

9. Provide a sensible work/life balance
Offering employees a the choice to work flexible hours that match their lifestyle, whilst meeting the needs of the business, gives employees a sense of ownership and control.

10. Create a culture of openness with accessible managers
Absence - particularly stress-related - can carry a stigma, which may discourage staff from admitting to suffering from illness or stress. Give managers the correct training to deal with any problems sensitively, and communicate to staff that it is not a sign of weakness to admit that they are unable to cope.

Bruce Robinson is the CEO of absence management specialists Active Health Partners. As always, if you have anything to add, please do so below.