MT Expert's Ten Top Tips: Use your data to improve customer service
How can you use your existing data to engage better with customers? Here are ten top tips.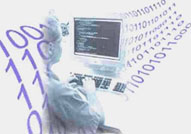 At a time when people are spending less (but expecting more), customer service and retention has become incredibly important for businesses. Most companies spend a lot of time and money trying to get it right, because there's no simple answer; positive and fruitful customer relationships depend on a variety of factors that are individual to each industry and business.

But there's one thing that many companies overlook when it comes to planning customer service strategies. The information you already have about your customers from your daily interactions - names, orders, email chains - is the best way of finding out what makes them tick, and how you can enhance your relationship with them. So MT asked Tony Speakman from database company Filemaker for his top tips on how to unlock the potential of all this stuff.

1. Get the IT right
Technology is an asset, not only in identifying necessary information but also in implementing customer service programmes. That said, before you decide what to buy, consider who's going to use it, what information they need and how they'll need to access that data – all of which will influence the final purchase decision.

2. Know what you're looking for
Whether you buy a specially-designed CRM solution or simply use a database tool to record daily interactions, seeing what a product can do before knowing precisely what you need it to do can colour your thinking. So draw up your list of requirements before you see any products.

3. Go your own way
Just as your business is different from that of your competitors, your approach to customer service should be similarly individual. Don't buy an 'off-the-rack' tool simply because other companies in your industry use it – unless of course it provides the data and metrics that match your own business needs!

4. Keep it current
Whatever tools you use to record business data and keep relevant backups, make sure the information is as accurate as possible and is kept up-to-date, with no duplications. Effective decisions cannot be made using outdated information.

5. Talk amongst yourselves
Internal communications between teams or departments is vital in keeping data accurate. From sales to finance, purchasing to client service, customers have a variety of touch-points within your organisation. So it's important that all your employees are working with the same information and disseminating the same message.

6. Encourage feedback from customers on a regular basis
Their input is the most important source of information you will get about how to drive business growth. Whether this feedback is given directly to your employees on a daily, operational level or through an external source, such as the company website or an online survey, make sure the method by which they can provide it is as user-friendly as possible. Also, ensure that whatever source the information comes from, it gets collated and analysed centrally so you have a complete picture to work from

7. Feedback on feedback
Customer satisfaction is a two way process. Once you have their feedback, communicate back to customers that you appreciate their input; match how you contact them and the message you give them to what you know about them and their preferences, based on the information you already have. The larger your customer base, the harder it can be to keep this process personalised; so devise standardised copy blocks, but allow some flexibility on how exactly those messages are communicated for the best fit.

8. Use what you already know
Existing customer knowledge is a great springboard for organic business development, so look beyond the basic facts and figures. Increased sales of one particular product or service may be an indication of a gap in the market, while decreases in demand from certain customers may mean it's time to give them more personalised attention.

9. Set internal targets for customer engagement
Whether that's response time to feedback or for how often you make proactive contact – but be realistic about what time and resources you're giving your staff to realise them. If requirements aren't reasonable, they'll soon be disregarded. Also, set your customers' expectations slightly lower than the targets you give staff so you can exceed expectations - rather than over-promising and under-delivering.

10. Review regularly
Whatever system you implement, evaluate it periodically to make sure it still answers the right questions and provides the information you need.

Any more to add? As ever, please do so below.