MT Expert's Ten Top Tips: How to work with really difficult people
How do we work with people we just can't seem to get along with? Here are ten top tips.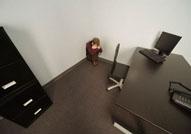 Most of us like to think we're professional enough to handle pretty much anyone we come across in the workplace. But at some point in our careers, almost all of us have found ourselves dealing with an 'enemy', haven't we? So MT asked coach and mentor Mike Liebling, author of a new book on dealing with difficult people, for ten tried and tested tactics...

1. Act when calm
Rather than acting in the heat of the moment, we might usefully plan carefully, state our case calmly, then propose a course of action. Go for a calm gap. Advise them in advance what you need to discuss, and what you want to get out of it. And remember that the best time to tame a tiger is not when it's attacking!

2. Plan carefully
Other people can only know what we want from them when - you've guessed it - we tell them. So we ourselves need to be absolutely clear on exactly what we want, what we no longer want, and what we're asking of them. For example: 'I want us to work professionally together, with enough time to do the job properly. I hated having inadequate time to do a good job. So when would it suit you to discuss new ways of working, please?'

3. Bear in mind that they're not really the enemy
Thinking of our enemy as a difficult person is a gross exaggeration since, in truth, it's specific behaviours that we have found difficult. It's easier to think of them as, for example, 'Jo whose habit of undermining me has to be addressed'. In this way we can focus on what behaviours we've found difficult, and what we'd prefer instead.

4. Remember you're not alone.
The only thing worse than feeling 'got at' is feeling 'got at' and alone. We all need someone to talk to, so that we can sort out our thoughts and feelings, rather than bottle them up.

5. Ask whether it's just you
Is it just you that has been finding this person difficult? If other people have been suffering similarly, then a joint approach can be considered. And whether it's personal or not, it's our organisation's duty of care to ensure that it addresses the situation. So if we've not been able to sort it out ourselves, we can refer the situation 'upwards' - even to our boss's boss, if our boss is the problem. This is not being disloyal; it's alerting the organisation to a problem that's going to get even worse if left unaddressed.

6. Stop talking to them
If we've not been able to sort things out in conversation, try an email. It allows us to polish our message until we're happy with it, and have our say uninterrupted. I'm also a great fan of leaving a carefully planned message on their voicemail when I know they're away!

7. Keep it professional
No matter what we might be tempted to say, we need simply to be clear that we want to deal with our work professionally and that we're not willing to let personal comments interfere with our professionalism. I did the opposite many moons ago, and told my boss why I was really resigning (i.e. him!). He turned up a few years later as a client. Ouch.

8. If at first we don't succeed...
We should not 'try and try again' (this saying leads us to feel that it's normal to succeed first time; and that if we don't, we need to plug away at it). How about: 'If at first we don't succeed, try something different' - for instance, if we've been trying to address the matter in private, we could maybe try an office or corridor with others around, to show we've nothing to hide.

9. Beware good advice
Anything with a 'should' in it should (oops!) be taken with a pinch of salt. It's someone else's opinion, and it may not be appropriate for us. We need to think things through and follow both our head and our heart. We need to be clear what the consequences are of each course of action, and also of inaction. A major decision cannot be forced, it can only be fed, with more and more information - to help the decision make itself when it's good and ready.

10. Get out
Believe me, leaving our job is not our last resort. Our last resort is to have a stress-induced heart attack, stroke or breakdown. So when we've tried everything possible to get on, our best option is often to get out. It's not admitting defeat, it's admitting de-facts (sorry!). I've never met anyone who says 'I wish I'd endured that ghastly situation for longer'. After all, the job we thought we'd be doing might not be the job we find ourselves doing now.


Mike Leibling has distilled much of his work as a well-established mentor and coach into his bestselling guides to handling difficult people, 'How People Tick' and 'Working With The Enemy' (Kogan Page, 2009) He can be contacted at www.strategystrategy.com.

If you'd like to buy a copy of Mike's book, we've arranged for a special offer for all MT readers. Visit www.koganpage.com to buy 'Working with the Enemy' before close of play Monday, and you'll be able to buy it at the special price of £5.99 - a 40% discount on the usual price.

Any more to add? Please do so below...