MT highlights: a year at the top
A big year for business, which means a big year for the people at the helm. From James Murdoch to Carolyn McCall (pictured), Philip Yea to the resurgent Rocco Forte, MT spoke to them all.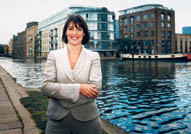 James Murdoch is famously not keen on giving interviews, hence the hoots of triumph in the MT office when he finally succumbed to our advances after several years of trying. And this has been a big year for the Dirty Digger's son: his recent appointment as head of News Corps' European and Asian operations announced that he is now heir to his father's media empire.

Guardian Media Group's Carolyn McCall has been popping the champagne this year too. She led the group's £1bn purchase of Emap's B2B stable. It was touch and go for a while, but the deal eventually went through, bolstering the Guardian stable with an impressive selection of professional magazines.
As the head of publicly-listed investment group 3i, Philip Yea is the acceptable face of private-equity. But even he felt the heat this year, which included a grilling at the hands of the Treasury select committee. Next year is likely to be even tougher.

Outsourcing giant Serco has an eye-catching remit, running asylum centres and setting the time for the speaking clock. Chief executive Chris Hyman has an equally interesting story: he fasts every Tuesday, has recorded his own album, races formula 3 cars and was in the World Trade Centre on 11 Sept 2001 when the planes hit.

It's never a good experience to have your family business snatched from your hands. Sir Rocco Forte knows how it feels – his father's empire was taken a decade ago in an aggressive £4bn battle with Granada. The resurgent iron man joined us to describe what it took to claw his way back with a new business of his own.

CSR proved in 2007 that it is here to stay. As chief executive of Business in the Community for 15 years, Julia Cleverdon is one of CSR's principal campaigners. Prince Charles' persuasive pal talked us through the trials and joys of encouraging business to clean up its act.