The MT Interview: Chris Townsend
The commercial director of the London Olympics has shrugged off the recession to bring in the £2bn needed to stage the games. But, with some tickets still to sell, can he avoid another outcry from disappointed fans?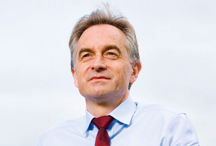 So, the nasty question first: just how many tickets did Chris Townsend's family get in the great Olympic ballot? He laughs when I ask.
'None, my family all lost out. But, yeah, I'll probably get to go. I'll be working.'
That's an understatement. For if anyone is going to be running round next July, it's Townsend, commercial director of Locog - the London Organising Committee for the Olympic Games. Just like the athletes, he's in training, that's how seriously he takes his job. 'All my spare time at the moment is spent keeping fit for this,' he says, gesturing around. 'Got to be fit in body to be fit in mind - that's my mantra.'