The MT Interview: Crispin Odey of Odey Asset Management
The hedge-fund boss's country gent appearance belies one of the sharpest and most contrarian brains in the business. He paid himself over £30m last year and made a fortune from the collapse of British banking.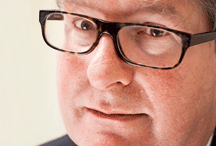 When I arrive for lunch with Crispin Odey at Corrigans - the super-smart Mayfair restaurant of star chef Richard Corrigan - I'm treated like royalty. Odey is running slightly late and I'm shown to a prime table. The staff bustle around, checking I'm okay - nothing is too much for them. Finally, he arrives, and they go into overdrive.
A bottle of normally exquisite - and expensive - white Burgundy is produced, which he decides is not quite right. The sommelier scurries away to fetch another one. He glances at the menu and knows what he wants: a duck egg to start, followed by, if I agree, a shared steak and kidney pie. 'And what about some beef on the side, let's have the loin of beef on the side. Lovely. Oh, and we'd better have some mash and some kale - we ought to have something green.'
He calls over the wine waiter again: 'And we'd like a bottle of the Leoville.'