The MT Interview: Jasmine Whitbread of Save the Children
The hard-headed ex-PR who's just been made the 91-year-old charity's first international CEO...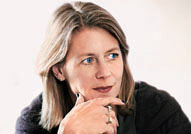 It's not the sort of start you expect from a charity chief. 'Rio Tinto Zinc,' says Jasmine Whitbread, boss of Save the Children, running through her early work experience. 'Began in marketing, moved to public relations.'
Public relations for Rio Tinto, the world's second-biggest mining group? When Whitbread started there - back in the 1980s - it was one of the most controversial and disliked multinationals around.
'Well, it just happened to be the company that would help pay the rent,' she smiles. 'I was working for its computer services division: just left university, it was hiring, got the job through a friend of a friend.'