The MT Interview: Jeremy Darroch of BSkyB
BSkyB's CEO insists life is sweet: customer numbers are up, the BBC's on the back foot and the desire to innovate and evolve is as strong as ever.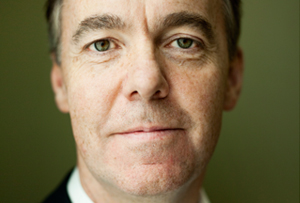 MT first came across Jeremy Darroch in the spring of 2007. We'd been summoned out west to Osterley for a rare audience with his boss, James Murdoch, BSkyB's CEO, the young heir apparent to the News Corp global empire. While Murdoch had a preparatory cigarette on the balcony, I was hurried along a corridor at New Horizon Court. Darroch, then Sky's finance director, was in his big office staring intently at his screen. He looked up with a careworn and slightly melancholic mien. A lot has happened to both Darroch and Murdoch since then: mostly good for the former, not so great for the latter.
Darroch has a reputation for being close to Murdoch, a bright, thorough and trusted lieutenant who tempered some of his energetic boss's schemes and excesses. Legend had it that together they'd dreamt up the brazen December 2006 raid on ITV shares on the back of a fag packet: the dynamic duo rustled up £940m for 18% of the company in three days flat and finally stymied Richard Branson's chance of ever being a bigtime player in British television. One version of the story has it that consiglieri Darroch had advised 15% of ITV would have been enough to do the trick without arousing the unwelcome attention of the Competition Commission. But James really wanted Branson out for the count and biting the dust.
Darroch's no swashbuckling media type. Having studied economics at Hull University business school, he arrived at Sky in 2004 from Dixons, where he had been FD. Before that he had enjoyed 12 years at Procter & Gamble, finishing as European finance director for its healthcare business. It's likely he would have risen higher at P&G and not returned to the UK, but his wife, Rachel, was a GP in Surrey - which she remains - and they wanted to come back with their small children. How much less interesting his life might have been shifting Pampers, Pantene Pro V and Pringles...