The MT interview: Julia Cleverdon
As head these 15 years of Business In The Community, a lobbying body that cajoles big business into social engagement, she wields her incorrigible charm and relentless focus to tap the influence of the mighty - up to and including Prince Charles. Which scares some off ...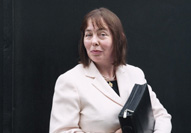 Do we still need an organisation like Business In The Community? Julia Cleverdon, doyenne of the group and chief executive for 15 of its 25 years, doesn't even look shocked by the question. 'Of course we do,' she says, in her plummy, brisk style. 'There's lots to do, lots to do, we've got to raise the game, heighten the impact, actually get something done in Burnley ...'
Cleverdon, 57, is a woman of causes and Burnley, a town wrapped in poverty and with a growing British National Party presence, is her current obsession. That's how she operates: pick a target, find a strategy, obsess about it, then pull British bosses together behind the cause again and again. Business In The Community (BITC), a lobbying group set up by big business in to push companies towards better social responsibility, has channelled that drive since she took the top slot in 1992.
Now, when so many companies work so hard to show their commitment to corporate social responsibility, you might argue that BITC - £25m a year budget, 400 staff, paid for by subscription - should pack up and go home.