The MT Interview: Richard Desmond
The proprietor of the Express and OK! - and now Five - is one of the most divisive figures in the British media. The self-styled outsider admits that a third of his staff probably loathe him, yet his wide-ranging work for charity and hopes of owning the Sun and the News of the World reveal someone who wants to join the elite.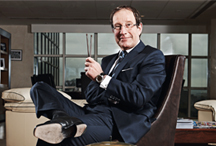 There is something spookily unsettling about the top floor of the Northern & Shell building in the City of London.
Located next door to the old Billingsgate fish market, it used to be the home of Midland Montagu until that bank was subsumed by HSBC. All blue glass on the outside, it's also modern on the inside - until you reach the highest level, occupied by Northern & Shell's chairman, Richard Desmond.
Then, you come out of the steel and glass lift, to be confronted by a deep-carpeted foyer and a dizzying array of closed, unmarked wooden doors. It's quite weird - are there rooms behind them, who is there, what do they hide?