The MT Interview: Rupert Soames
From playing cowboys and Indians with Churchill to DJing at Annabel's, Aggreko's CEO has had a colourful past. And the present is no less dramatic.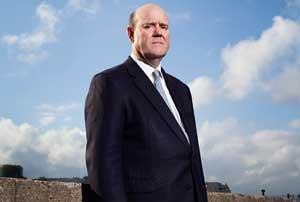 One of Rupert Soames's early memories is that of indignation. He was six when his grandfather died but it wasn't deemed appropriate for the small boy to attend the funeral. The send-off was, after all, hardly a classic English affair with a few grieving relatives at the municipal crematorium. It was a state funeral after a total of 321,360 people had filed past his grandfather's catafalque, during the three days of lying in state. The progress of the gun carriage carrying the coffin to St Paul's, the flypast of 16 English Electric Lightnings, the voyage up the Thames to Waterloo station - all contributed to a landmark day in the growth of live television. And that's how Rupert, Winston Churchill's grandson, was forced to watch the Greatest English Leader make his final exit.
'I was furious,' recalls Soames. 'He'd enjoyed our company more as he grew older. We played cowboys and Indians together. So watching it on TV was a very poor substitute.'
Being a Churchill - Rupert is the son of Winston's youngest daughter, Mary - must have had its advantages and disadvantages. On the one hand, when he meets senior figures in business or politics in the developing world and elsewhere, it cannot do much harm that he is Winston's grandson. He has an accomplished social ease, as befits his class, when dealing with strangers. On the other hand, there must have been a weighty burden of expectation. Winston may not have been much cop at school, but Rupert didn't cover himself in glory either: attending Eton and Oxford, where he was president of the union, he was awarded a 'Douglas Hurd' (third), as they are known in the trade.