The MT Interview: Sir Gulam Noon
The Indian-born entrepreneur made his reputation as the Curry King, supplying own-label ready meals to supermarkets - and nearly lost it when he got enmeshed in Labour's cash-for-honours row. At 72, he's still working, championing Noon Products for the firm he sold it to.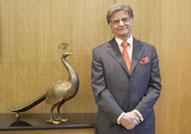 It takes Sir Gulam Noon only 18 pages of his autobiography to get to the hurtful bit. Forget cash for honours, the 2006 scandal that denied him a seat in the House of Lords because of a £250,000 loan he had given the Labour party. What nibbles away is how others see him.
'A journalist once wrote that I was vulgar because I am fond of saying: "There is no substitute for money." As I said at the time, he is entitled to his view...'
He argues that if anyone should share his family background - impoverished Muslim market traders in Bombay (Mumbai) plunged into financial crisis after India's partition, when both Noon's uncle and father die - they too might feel the need to amass cash and show the world they are doing alright now.