The MT interview: Sir Stelios Haji-Ioannou of easyJet
Sir Stelios on the frustrations with the easyJet board that prompted his conversion to shareholder activism.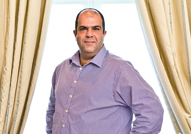 Stelios wants to show me two pieces of paper. One is a chart of easyJet's share price relative to the rise in the size of its aircraft fleet. It's clear: while it has added more planes over the past 10 years, from 19 to over 180, the shares have not soared as a result.
'Look at Ryanair,' he says. 'It's gone from 36 aircraft in 2001 to having 218 in November last year. Now tell me, are investors in Ryanair better off because it's bought more planes?'
It's true: the line for arch-rival Michael O'Leary's airline mirrors easyJet's. All that expenditure on Boeings and Airbuses – and no tangible benefit, not for shareholders anyway.