The MT Interview: Vittorio Colao of Vodafone
Vodafone's global chief is sitting on the UK's most valuable brand, with profits of more than £9bn last year. Now, with a run-in with the Revenue behind him, a more dynamic company structure and a new chairman on the way, he's looking to mobile data services to provide the next spur to growth.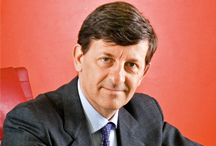 Sometimes when I meet people at the top of a major corporation it's not apparent why they are there. They've got no obvious strengths, not ones that make them stand out from the crowd.
Occasionally, it's all too clear: they really are place-men - 'a safe pair of hands', boring. They're neatly turned out and charming, but would I cross flaming coals barefoot for them if I were an employee? Not a chance.
Then, I come across a person who has an easy manner, is direct and funny but also serious and full of charisma, and, I suspect, has no problem at all motivating people. Such a specimen is Vittorio Colao, chief executive of Vodafone.